It's happening: Die Digital Imagination Challenge
Inspirierende Begegnungen, intensive Sessions und eine gemeinsame Motivation, um Veränderung in der Gesellschaft zu bewirken – die zweite Runde der Digital Imagination Challenge ist in vollem Gange und das Support Programm hat mit einem zweitägigen Bootcamp in der Mozilla Foundation begonnen.
Die Digital Imagination Challenge ist ein Innovationswettbewerb, der von Unitymedia initiiert wurde, einem der größten Kabelnetzbetreiber Deutschlands. Mit diesem außergewöhnlichen Programm unterstützt der Konzern Start-ups und Initiativen, die mit Hilfe von Technologien Barrieren im Alltag für Menschen mit Behinderungen minimieren, ob zu Hause, am Arbeitsplatz oder in der Freizeit. Mit dieser einzigartigen Challenge möchten wir gleichzeitig für die Bedarfe von behinderten Menschen sensibilisieren und so auf die Notwendigkeit einer inklusiveren Gesellschaft hinweisen.
Das Besondere an diesem Programm zeigt sich gerade in Momenten wie dem Bootcamp – wenn Excel-Listen zum Leben erwachen und sich in Menschen mit unglaublichen Ambitionen verwandeln, die alles daran setzen, bahnbrechende Ideen zu verwirklichen, die den Alltag von Blinden, Gehörlosen oder anders eingeschränkten Menschen zu erleichtern.
Diese Innovateure brauchen Unterstützung bei ihren Konzepten und wie sie andere dafür begeistern können. Im Bootcamp durchliefen die Teilnehmer verschiedene Workshops – von Methoden der Wirkungslogik, dem Lean Canvas oder einem Pitch-Training, alles war dabei, was den Teams dabei hilft, ihre Lösungen strukturiert weiter zu entwickeln und auf die nächste Stufe zu bringen. Wir danken Unitymedia, die das Programm ermöglichen und Sozialhelden, die bei der Umsetzung und kritischem Feedback zur Seite stehen.
Nach diesem intensiven Zweitagesworkshop bekommen die Teams nun individuelles Business-Coaching und Pitch-Training, um ihre Lösungen schließlich einer Jury vorzustellen, die am 22. November 2018 in Berlin stattfinden wird. Hier winken den Teams bis zu € 20.000 Preisgeld und ein Mentoren-Programm mit Managern von Unitymedia. Stay tuned!
Unitymedia, Sozialhelden & Impact Hub Berlin.
Dieser Blogpost wurde von Clara Niedt und Sascha Stremming verfasst.
– English –
It's happening: The Digital Imagination Challenge
Inspiring encounters, intense sessions and a common motivation to make a change in society – the second round of the Digital Imagination Challenge is in full swing and the support program has kicked off with a two-day boot camp at the Mozilla Foundation.
The Digital Imagination Challenge is an innovation competition initiated by Unitymedia, one of Germany's largest cable network operators. With this extraordinary program, the Group supports start-ups and initiatives that use technology to minimize barriers in everyday life for people with disabilities, whether at home, at work or in their leisure time. With this unique challenge, Unitymedia also wants to raise awareness of the needs of people with disabilities and highlight the need for a more inclusive society.
What's special about this program is moments like the boot camp – when Excel lists come to life and turn into people with incredible ambitions, who do everything they can to realize groundbreaking ideas that make the daily lives of the blind, deaf, or otherwise limited people easier.
These innovators need support with their concepts and how to get others excited about them. At the Bootcamp, the participants went through various workshops – from impact logic methods, lean canvas or pitch training – everything was there to help the teams develop their solutions in a structured way and take them to the next level. We thank Unitymedia for making the program possible and Sozialhelden for helping with the implementation and critical feedback.
After this intensive two-day workshop, the teams now receive individual business coaching and pitch training to eventually present their solutions to a jury that will take place on 22nd November 2018 in Berlin. Here the teams can win up to € 20,000 in prize money and a mentoring programme with managers from Unitymedia. Stay tuned!
From Unitymedia, Sozialhelden and Impact Hub Berlin.
This blog post was written by Clara Niedt and Sascha Stremming.
With many new techniques on "how to work" entering our radar, SCRUM is not just a buzz word. It brings transparency and coordination to a team – with structures and techniques all stakeholders can benefit from. Anton Skornyakov has set out on his mission to bring SCRUM to NGO's, pro-bono. He recently delivered an inspiring workshop here at Impact Hub Berlin – providing the participants with a deep understanding of the Scrum framework using interactive tasks. The group had the opportunity to experience the different aspects of agile working and to immediately apply what they had learned. We grabbed Anton for a quick interview to find out more about SCRUM and his workshops – read on:
1. What is SCRUM Training for NGO's? 
Scrum is a framework that helps you organise the work of many people in environments with many uncertainties. Our typical work context is giving Scrum training and coaching mostly for software companies. However, Scrum isn't confined to this area; it is also being applied successfully in sales, marketing, hardware, organisational change and other contexts.
Scrum is not only a collection of practices that you need to follow – if applied, Scrum encourages a team to use self-organisation and creates a sometimes rather painful transparency about what is being achieved and how it is happening. We believe that especially non-profits can benefit strongly from using a more self-organised and transparent working process, since their goals are often highly motivating for all stakeholders involved.
With our pro-bono trainings we want to support the non-profit community – learning about their day-to-day problems and then figure out together how we can apply Scrum in an NGO context to support their needs.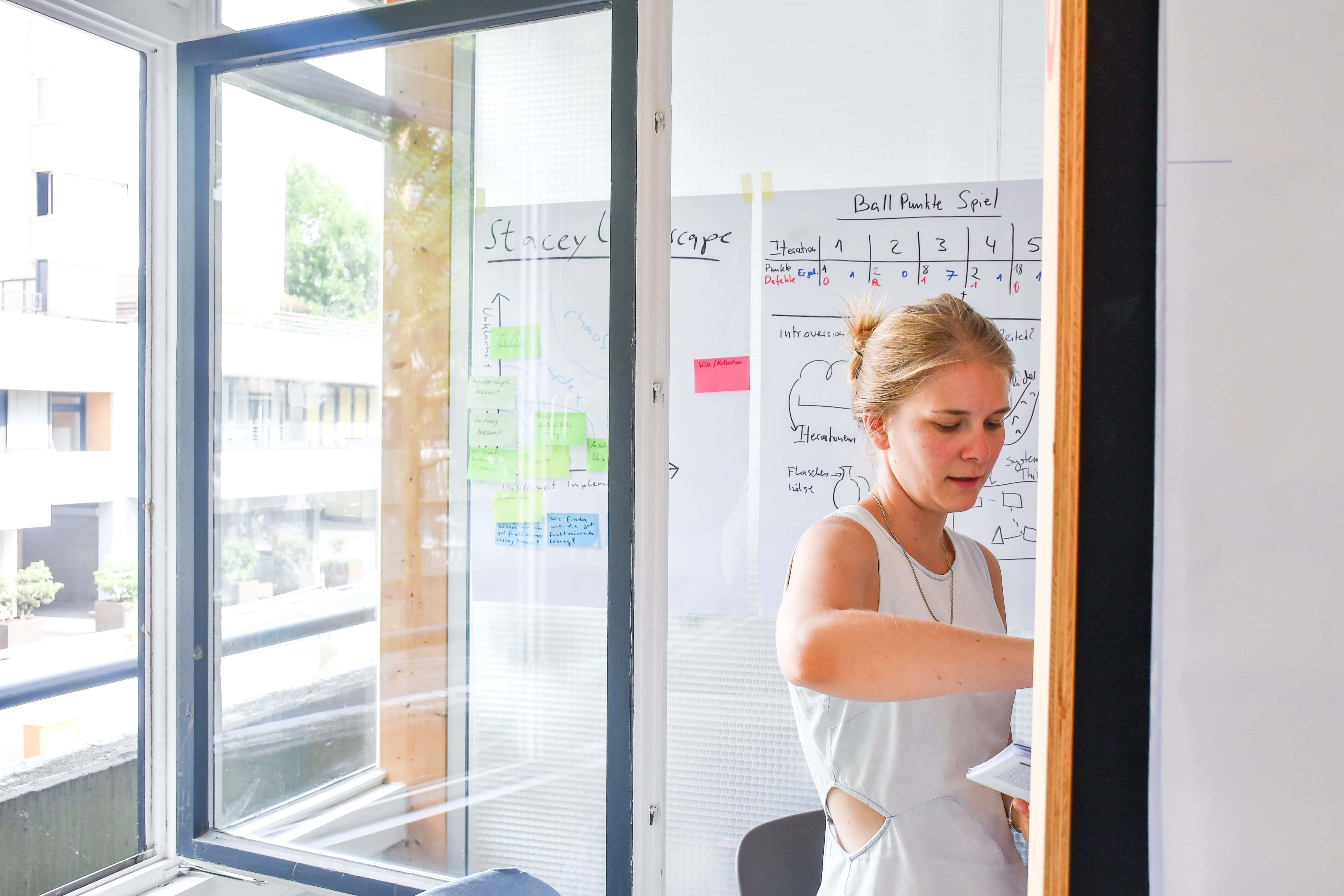 2. What's your mission?
We believe that agility of an organisation is another world for aliveness of the organisation. We want to help creating such alive and vital working environments – where people can show up with their full selves while effectively collaborating on common goals. We believe that the tools, principles and practices from the Agile and Scrum world are very helpful for this.
3. What does Impact Hub mean to you?
First, Impact Hub is one of those organisations that is a place for people with their full selves while achieving truly world-changing goals. Second, for us Impact Hub Berlin was the perfect partner to organise such a training with. You have a great network within the NGO world and are regularly supporting them already. Thank you!
4. What are your future plans?
This first training here was great. All participants really liked it, we were able to really go into some details around some of the participants organisations. Also, some of them already told us they want to share their learnings and with their co-workers, which is great! We are planing to do this kind of pro-bono training again in beginning of 2019, so stay tuned.
Keep your eyes open for more classes with Anton here at Agile.coach!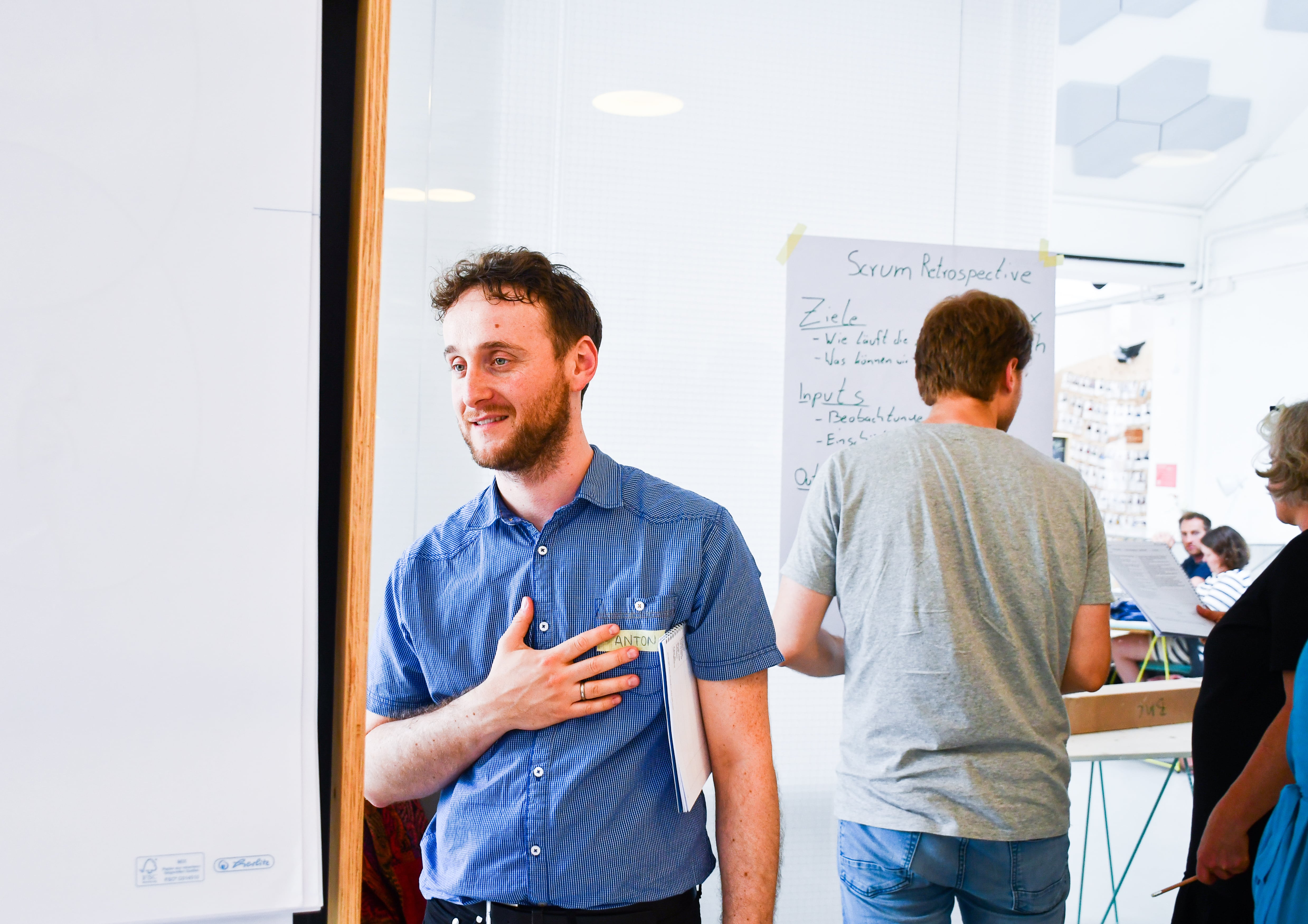 Working in a global network can really open up doors, not just for you but for the people on the other side of the world too. To prove how this can really be the case, one of our members talks to us about how the network has helped him in his work in Myanmar. Our Impact Hub Berlin member Christian Koch has been working for GIZ between Germany and Myanmar for the past couple of years and after joining us at Impact Hub in Berlin, he discovered the Impact Hub in Yangon. Using these social entrepreneurship connections, he had the opportunity to introduce GIZ to Impact Hub Yangon and demonstrate Impact Hub ideology in action.
Working on the Berlin-Yangon connection – Myanmar Change Agent Network (MyCAN)
Christian is working on the Myanmar Change Agent Network (MyCAN) initiative along with his colleagues Birgit Kerstan and Thet Su Hlaing. As leadership and change management professionals working in the country, they witnessed the magnitude of challenges in the transformation of Myanmar's society and economy since 2011.
MyCAN wants to make international best practices in leadership and make consultancy accessible to people active in change processes. The main product is an intensive, year long course with six modules. The mid-term objective is to establish a network of like-minded professionals in Myanmar in close collaboration with local academic institutions, consulting firms, NGOs, universities and think tanks.
When Christian visited Impact Hub Yangon it was among the first to receive a scholarship for the course provided by Deutsche Gesellschaft für Internationale Zusammenarbeit (GIZ).
"We are lucky to have Okka Myo, tech entrepreneur, Co-Founder & Director at Impact Hub Yangon among our participants who inspires us with his drive and kindness" Christian says. "So, let's work on the Berlin-Yangon connection and encourage those voices in the country that are striving for an inclusive, peaceful development process!"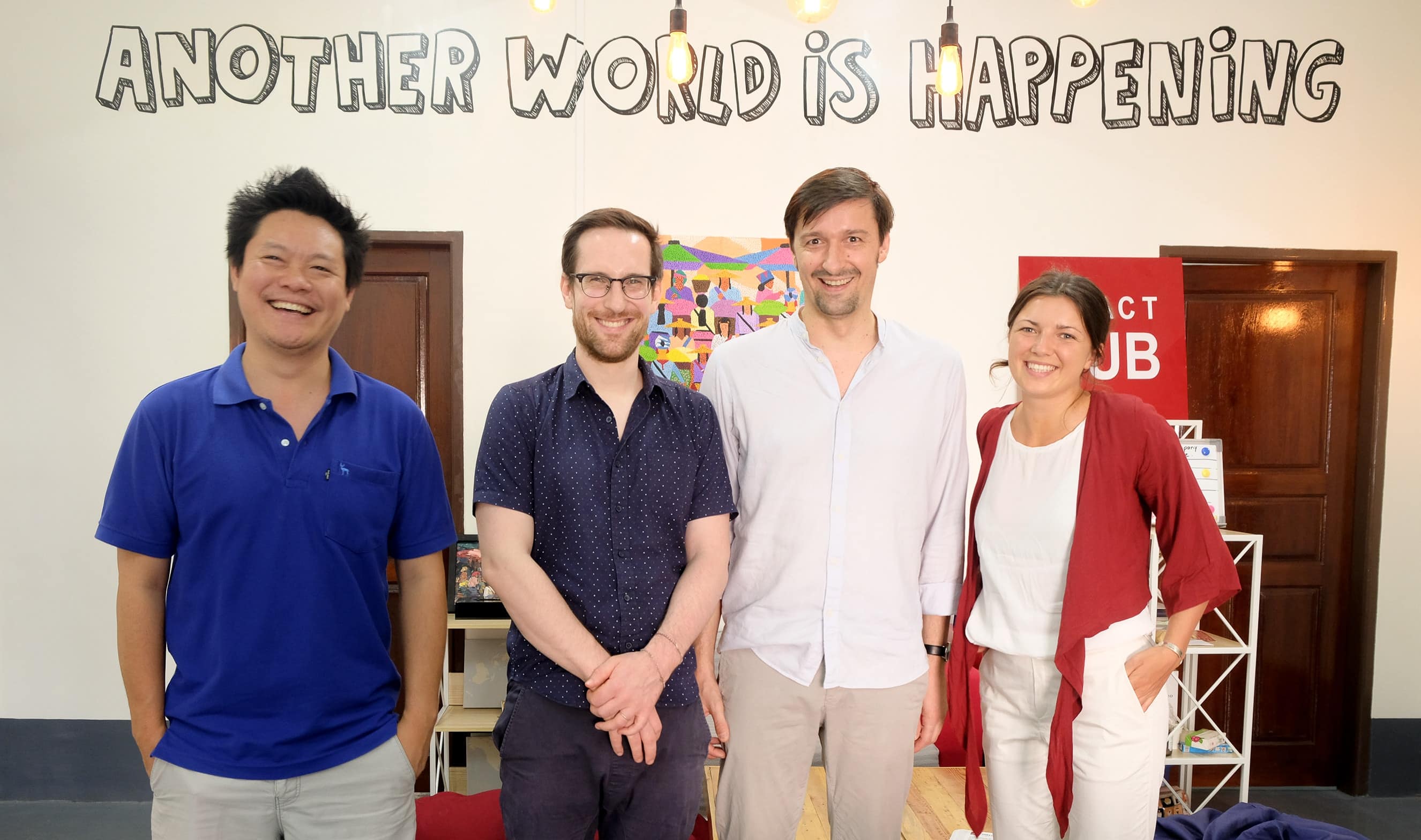 From left to right – Okka Myo, Co-Founder and Director of Impact Hub Yangon; Klaus Oberbauer, Co-Founder and Organizational Development Lead IHY; Christian Koch, Co-Founder & Trainer My-CAN; and Lenya Bass, Strategic Design Master Student, Design Akademie Berlin (Lenya was writing her master thesis about the course and has supported this module).
"Okka's vision for Impact Hub Yangon is to create a place or a community where Myanmar people can connect to the open world. This will be the place where people will exchange ideas, get better opportunities, innovate, incubate and create new things that will positively impact on the Myanmar social environment, education system and economic development" Quote about Okka from Impact Hub Yangon Homepage.
During one of the modules in spring My-CAN co-founder Lwin (Investment Commission) and Mo Mo Theda (President Shan Women Entrepreneurs Association) had the chance to get to know the work of IHY and receive an introduction by Klaus Oberbauer, Co-Founder and Organizational Development Lead Impact Hub Yangon.
Seeing how opportunities like this can arise from networking and understanding that people all over the world are in the same situation, trying to work together to co-create and shape a future that we can all be proud of.
What unites us and The Hague? You guessed right: impact, baby! The Hague is the first ImpactCity in the world designed to support impact entrepreneurs in succeeding and scaling. With their soft landing, housing and financial support programs, they have created a vibrant support ecosystem for impact ventures that work towards the SDGs – connecting NGOs, research centers, knowledge institutes, companies, governments and many young and creative entrepreneurs who are 'doing good & doing business'.
---
While the social innovation scene in Berlin has been growing constantly and is becoming more and more visible, also thanks to initiatives such as the Social Entrepreneurship Network Deutschland (SEND e.V.) amongst many others, our local governmental institutions are still struggling to provide an infrastructure for social entrepreneurs that enables them to succeed and scale. Especially bureaucracy and affordable housing are key barriers (impact) entrepreneurs face.
To address this issue and to discuss how and to which extend cities and governments can foster impact entrepreneurs, we hosted an open Fishbowl discussion together with the ImpactCity Den Haag on June 20, 2018. Our panel consisting of Nele Kapretz, our Co-Founder & Managing Director, Erik van der Rijk, Director of Urban Economy, and Anna Menenti, Program Manager of Impact Economy, both responsible for ImpactCity, was joined by Katrin Elsemann from SEND as well as members from the audience. Birgit Leverenz from the Berlin Senate Department for Economics, Energy and Public Enterprises also joined us in the audience.
The key findings were:
Innovative power comes from cities rather than countries.

City governments should realize their responsibility to foster local innovation ecosystems that are attractive for impact startups and impact investors. Job creation is the key term here!

Cities can play a crucial role in promoting the visibility of impact entrepreneurs.

By offering a platform to explain and display the role of social enterprises, they become visible to impact investors and talent. As Berlin is becoming more and more popular, it was suggested to use this visibility to promote social entrepreneurship.

Impact entrepreneurs can fill gaps that cities struggle to address and local governments should take advantage of that

. With their

Startup in Residence program

, the ImpactCity manages to bring the government and entrepreneurs together to solve local problems. Every year, the city posts challenges addressing local issues such as waste management, access to information or political engagement, which citizens can create and hand in innovative solutions for. Once selected, the municipality of The Hague slips into the role of the customer and helps to bring the idea to life. The concept, which is also used in other cities such as San Francisco, has proven to be very successful in fostering collaboration and understanding between governments and citizens / startups. Might be an interesting idea in Berlin, where problems pile up and there are not many incentives for citizens to step in yet!

Bureaucracy is a major burden for most (social) entrepreneurs.

"It takes 1 day to found a startup in The Hague and 300 days to do so in Berlin." Let's change this – so that impact startups can concentrate on what they do well: doing good and doing business!

It is not a city's task to invest in social startups, but to facilitate investment.

Investing in infrastructure to attract investment and encouraging private-public partnerships were mentioned as the key ingredients for a supportive ecosystem.

Partnerships between cities should be encouraged to make scaling for impact entrepreneurs easier.

Soft landing programs

such as the one in The Hague are great baselines for that. As our guests pointed out, creating a welcoming environment for startups is not stealing entrepreneurs away, but rather helping them to succeed on a larger scale!

We have to be able to find a common language that translates between city governments, entrepreneurs, corporates and investors to deepen an understanding of the needs and collaboration opportunities.
Involve the universities

to get students interested in impact entrepreneurship.
Thank you to everyone who participated in our Fishbowl discussion!
If we have forgotten to include key findings you noted or if you want to be connected to someone at the event, please get in touch with Vera.
On the 20th and 21st of June 2018, 150+ thought-leaders from tech, art, and science met at Funkhaus Berlin and shared their vision on how they see the world evolving, diving deep into the tech ecosystem with inspirational storytelling, interactive panels, workshops, art installations, live music, and so much more… Our team member Maddie visited this years' Tech Open Air fair (TOA) and wrote us a little report about all the inspiring things she saw and heard.

Since all of the above sounded in fact very promising, I decided I couldn't miss out. But I needed a focus amidst all the talks, workshops, pitches, etc. – so, since at Impact Hub Berlin we've turned our attention more and more to the potentials of marrying impact with technology, my goal for the two days at TOA was to scout the conference in search for all things Tech For Good.
While the term Tech for Good is often used to describe any technology with a social purpose, it actually covers a broad range of concepts and ideas. The most obvious ones are of course technologies (and organizations) that actively work in the field of education, health, sustainability, welfare, community, inclusion and so on. The less obvious ones are companies like Twitter, that went from being a "simple" communication platform to becoming one of the main instruments that allowed e.g. movements like the Arab Spring in 2011 (see article).
After attending a total of 15 talks over two days, plus strolling around the different booths and stands, I drew the following conclusion: Tech for Good (at least, at TOA) can be divided into three categories:
The first one is what we would refer to as the "first world problems" type – where tech is aimed at making our everyday-life easier.

The second kind is the "let's save the environment" type (quite self-explanatory, I'd say).
The third one is tech concerned with "improving disadvantaged people's lives" – aimed at providing assistance to aid any plaguing problem that prevents people from leading a dignified, decent and fulfilling life.
The first two types of tech were the most commonly found, with wonderful examples coming from companies like Ecoalf, which uses plastic recycled from waste found in the oceans to produce clothing, or The Ocean Cleanup, a company that develops advanced technologies to rid the world's oceans from plastic, both of which were present through their CEOs, who gave inspiring presentations about the future opportunities of recycling and ocean cleanup.
As for the third type, however, my impression was that while many technologies and ideas presented could be used for all sort of good purposes, only a handful of cases really preached their application for the actual good of society. One example came from Mobisol, whose CEO gave insight on how they are using technology to empower millions of people globally while providing sustainable and decentralized off-grid electrification.
Blockchain for Good, held by Google for Entrepreneurs, is another happy case of the application of tech for social purposes, where the talk focused on the possibility of applying Blockchain technology to improve trade standards, focusing particularly on fishermen and subsistence farmers: in this scenario, for instance, blockchain could be used to track products back to their origins, to see whether a company was using child labor or slavery, whether the raw materials were extracted in a sustainable manner, etc.
An additional lesson was brought to us by Joachim Hedenius, Co-Founder of KRY, an app that allows users to meet doctors on video call. Joachim discussed the possible applications of technology to healthcare, arguing that tech could help breach barriers and make quality healthcare available worldwide, just one call away.
All in all, while Tech for Good may not have been the unconditional center of attention at TOA, I was regardless happy to see that our corner of the world, is not forgetting about the rest of it. For future editions, however, I wouldn't mind seeing a few more stages and a few more events dedicated specifically to the issue of technology and how it can be applied for the good of (the whole of) society.
F-LANE is a six-week acceleration programme focused on making impact driven startups investment ready that leverage technology to empower women. Initiated by the Vodafone Institute for Society and Communications, it is run in cooperation with the Social Entrepreneurship Akademie and Impact Hub Berlin with the goal of creating gender-inclusive technology and promoting women's participation in education, workforce, entrepreneurship, leadership and ultimately, digitalization. The following is a thought piece by Clara Niedt, Programme Coordinator of F-LANE.
In May 2018, the third cohort of F-LANE, our accelerator focusing on female empowerment, successfully pitched their ventures at re:publica. This moment when everything culminates that startups, partners and us have worked on throughout the last seven weeks is very special. With goosebumps we watched one finalist after the other walk on stage – and were positively surprised over and over again by their strong, coherent and thought-provoking pitches, all whilst having great fun on stage.

I keep asking myself what it is that makes the ventures thrive so well.
It surely is due to their passion and hard work. But when comparing the pitches from week 1 to their final performance during the Demo Day, I realize that we can also attribute it to the programme we provide to them during the 6 weeks, that evokes such a steep learning curve within such a short time frame. Looking at the programme, it entails two main areas:
On the one hand, F-LANE offers input that can be summarized as "hard skills". This initially includes a tailored curriculum, specifically focusing on challenges the selected startups experience at their respective stage of development.


On the other hand, F-LANE builds the "soft skills" of the startups. This is where Impact Hub Berlin steps in with their unique ecosystem of innovators and seasoned industry leaders as well as experience in community building to design an experience programme that includes tailored mentoring, community building, peer2peer learning and introductions to experts, potential business partners and funders.
But it is especially this activation of our network and opening of doors for the startups that fascinates me. Where a startup would usually need to invest much effort and time, we use our global and local network of innovators, mediators and investors to make strategic introductions to assist each startup in growing their business much more quickly. While it can be as easy as me shooting an initial email to a contact of ours to connect two bright minds, the power of this connection is really only visible months later to us when you hear over a coffee from the startup how the relationship developed further.
The story of Good On You from Australia, finalist of batch #2, perfectly illustrates this for me: During the acceleration phase, we introduced them to a contact of ours at Zalando. 6 months later, Sandra, co-founder and head of development of Good On You, shares with us how Zalando has turned into a major partner of theirs and acts as a gateway for them to enter the European market. "It is really important to make the effort of meeting those people whilst in Berlin, being concrete about what you want and then investing the time and cultivating these relationships. You never know how great the potential of an introduction might be. For us, it was really successful, we secured our first big corporate client from one of these introductions!" says Sandra.
Also this time round, for our third cohort, the networking introductions were an important element of our work.
In total, 20 introductions were made, out of which 60% are ranked as possibly high potential by the startups. This time the contacts were mostly in the field of banking, healthcare and development projects. We took both requests from the startup side into account, as well as evaluating ourselves, who they should meet with whilst being in Berlin. Most introductions immediately led to meetings and follow-up introductions. For example, Free-D – a startup supporting women at risk, giving them long-term, high-value employment through 3D printing training – an introduction to Adidas, was highly promising. The co-founder Katherine is enthusiastic: "At the beginning of the six weeks I wasn't quite ready to speak to them, but F-LANE has helped me redefine my business model and storyline. I was especially excited to learn that the contact has experience working in the impact space and I expect we'll have lots to talk about."
Of course it is not all as simple as it sounds. For the startups there is a considerable amount of follow-up work involved. To turn an introduction into a sound deal takes a lot of valuable time to nurture and sometimes the contact even turns out to be a dead end. Therefore, communicating the value of those networking efforts is not always easy, especially considering the long timespan until the effort pays off. But when it does, the reward is visible for all parties. Impact Hub enriches its network with fresh minds and ideas, and the ventures can lay the groundwork for promising growth and business development.
Fostering the right mindset among the ventures to make the most of the six weeks in Berlin is therefore crucial. This is why stories like Sandra's are important to tell as they inspire and motivate. Not only the startups but also us – they show the incredible potential that sending a simple email has, that it is worth to invest in building a strong network and that our work – the "soft" side of the accelerator programme – results in an outstanding learning curve for the participants that really creates impact.
If you want to be connected to someone of this program, please get in touch with Clara!

Our co-founder Leon spend some time in Namibia with the Deutsche Gesellschaft for Internationale Zusammenarbeit (GIZ) recently in order to find out how to help support the local startup scene. Here he writes about his experiences on this trip – read on!
---
"After a very long night on a plane, I stepped onto the runway into the beautiful morning light of the Namibian bush. The 40°C temperature change within a 12h time frame wasn't as shocking as assumed – it was actually nice to suddenly arrive in summer, coming from the cold winter in Berlin. I was looking forward to the first-hand insights to be gained on this trip and to meet the people working behind scenes.
At the beginning of 2018 we were asked by one of our partner organisations, GIZ, to join a scoping mission for one of their new projects. So far we had worked on several great projects together, but this was to be the first time we'd be supporting them with their process as part of their internal team. The task seemed challenging and at the same time well placed with us: 1) Find out how the GIZ can best support the formation and successful fostering of startups in Namibia. 2) Develop the impact logic and targets. 3) Suggest how the local team of GIZ and their Namibian partners best structure the delivery.
We were thrilled: What a great opportunity to apply our learnings from the past years! And what an opportunity to learn even more. Our experience in building Impact Hub Berlin and its ecosystem of change makers came in handy as well as the learnings and support we gave and had received from other Impact Hubs around the world. Our work in developing thriving ecosystems for various projects over the past three years came into play – it all could potentially apply here! So we happily accepted GIZ's request and I landed back in Germany just a couple of days ago after 12 days of back-to-back meetings with high-level government officials including the First Lady (who impressed me greatly), various high-level government officials, entrepreneurs, investors and foundations. All in all, almost 40 meetings in which my GIZ counterpart and I asked endless questions and answered many questions ourselves to finally suggest a high-level project outline on our last day in the country.
---
Here are some of my personal take-aways from the trip:
It was striking to me how similar some of the statements sounded when talking to the different stakeholders compared to what I had heard the last 6 years in Germany. For example, investors claimed a lack of projects to invest in while entrepreneurs claimed a lack of access to capital – a classic "valley of death" situation that many social entrepreneurs still face in Germany (check out the positions on this by SEND e.V.). But when we inquired further we learned that there was a general problem around "scared money" that encompassed all sources of potential capital like banks, angels, and even fellow entrepreneurs. Similar learnings happened repeatedly and showed me that while many of the problems are similar, the roots causing these problems are often very different and thus may require different solutions.
2 – Entrepreneurs Support Entrepreneurs
During our interviews, I learned of various past and still ongoing attempts to support enterprise creation in Namibia. They all seemed to have some things in common: 1) They were run by government institutions. 2) They were built on a set of assumptions and a plan that was fixed and could to be altered. 3) The management team involved never had the possibility to try things out, learn and then adjust their offerings accordingly to fit the needs of the target group. Also, the bureaucracy that comes with the integration in government institutions often slows an operation down to the point where it is not operational anymore. After hearing all this we realized how fundamentally important it is to be able and capable to actually act entrepreneurial when supporting entrepreneurs.
3 – Friends are all you need
Especially when talking to existing intermediaries I was impressed with what they managed to create with the limited resources at hand. At the same time in many conversations, I ended up answering more questions than actually asking them. It was somewhat shocking to realize how little access there is to a support system of experienced entrepreneurs, best practice learning and just plain orientation when it comes to everyday challenges. I had to learn again how huge the difference is between reading a blog post or best practice paper and being actually able to talk to the person that wrote it. It really was a lesson on how valuable being part of a strong network like Impact Hub is – where I can call upon peers around the world for help and be welcomed as a friend.
4 – The Outside Look

Having majored in development studies and actively decided against a job in the sector for ideological reasons, this mission also posed a personal challenge of sorts. After years I suddenly found myself in a role I had never wanted to end up in: The international consultant, hired by the government, getting high-level access and giving recommendations on how huge amounts of money should be applied. And all this after spending 12 ridiculously short days to understand the country. This being said I also realized that my experience, but also my role as an external with no direct stakes at risk, allowed me a different view and a more open approach on how a possible solution could look. In the end, the local government together with local GIZ staff will decide if and how they will implement the proposal we suggested. But the role of the outsider enabled me to present our findings and make a bold suggestion without having to fear repercussions – as a result, I can say I am still critical, but also more appreciative of the value of the outside look.
I want thank the great colleagues at GIZ from whom I learned a ton. It was extremely insightful to learn how the work and with what kind of challenges they are confronted. Finally, I want to congratulate the passionate and talented people I met in Namibia. In a country with only 2.3 Mio. inhabitants spread across a country the size of half of Europe, they are tirelessly working towards a better future. One of them said: "We look at the problems of our society and try to solve them." Seldom has a sentence so textbook social entrepreneur has rung more honest and true.
---
With our focus for the past month being on the Sustainable Development Goal 10 "Reduced Inequalities", we have heard from our members, and had the incredible final pitch for the Digital Imagination Challenge, we asked our team member Yaser Hammadi to reflect on his experience.
If you could not see, how would you navigate the internet? What if you could not hear? Or if you could not use your hands? For the past six months, I have constantly asked everyone I know questions similar to these. For one week, I tracked every single piece of information that I consumed. Every software, website sign up sheet, fitness tracking app, public screen advertising, tv show, radio piece, announcements about public transport, up to no end. I could not keep up with the amount of information that I thought was inaccessible. Despite the limitless potential of technology, I discovered that the digital world has an endless amount of barriers which parallel the ableism found in the offline world. The plain truth is that a vast majority of the digital world is not born accessible, unless a legal requirement to be accessible, such as the ones placed on public sector websites, is present. In other words: accessibility is not a fundamental design feature.
The reasons why are various but they include: ignorance of the presence of ableism in every aspect, willful negligence, or a false idea that inclusivity is an extra cost and not a necessity. For a country like Germany, where 10% of the population could potentially be categorized as persons with disabilities it means losing out on priceless contributions. These issues are not exclusive to Germany or Europe though. In the United States, for example, a person with disabilities is ten times less likely to be employed, four times less likely to have completed an education and twice as likely to live in poverty. The ostracization of the community from the online world is an example of the lack of empathy, understanding and outright stigmatization that is still present. Hence, when cable network provider Unitymedia approached Impact Hub Berlin to start an innovation contest to catalyse startups and initiatives that break down digital barriers, we jumped at the opportunity. Early on in the process, we realized that a lot of our own organizational structure and methodology needed to change.
(c) Andi Weiland | Gesellschaftsbilder.de
The first step in what became the Digital Imagination Challenge was to acknowledge: the success of the project was dependent on the project itself being fully inclusive. Design Thinking, which powers the philosophy of our consultancy and programs, asks us to firstly empathise. Here we ran into our first major challenge – we could not empathise. We had to be honest and forthright with our privileged perspectives. Impact Hub's consultants are vastly experienced in running socially entrepreneurial themed programs. We have run incubators, accelerators, workshops and more on topics such as sustainability, female empowerment etc., but these themes have always also directly impacted our team members. Although we had family members and close friends who are persons with disabilities, this was not enough. We realized that simply acknowledging the issue and the statistics listed above is inadequate. This is why we asked Sozialhelden, Germany's leading activist NGO on the topic of inclusivity, to consult us through every step of the program.
If Sozialhelden helped us to empathise with the community and direct our methodology, it was still our responsibility to deliver a fully accessible contest. None of the problems we discovered were not easily solvable, but in essence we were learning as we were going along. Often it was feedback from the community to our inaccessible website or content that made us aware of these issues. Before the program, I had no idea how a screen reader would work. I had no idea what colours should be avoided, which plug ins to use to resize text, how captions should be written, the standards for subtitles and so on. In hindsight, our naivety shocks me. Consider that we had not initially budgeted for sign language translators for our events. We meticulously went over everything in our organization. Online, we took time to go back and caption every image we had, to structure our text properly and to make sure that our future videos can have audio description. Offline, we looked at how to make our space more inclusive. Although we are limited in how we can physically change the structure of our space, it is no longer something we are ignorant of. As such, the second step was to make time to fix every issue and document everything. If we are designing a new program or modifying our space, it will be a fundamental feature to be born accessible.
It is not enough to work post facto, although that is what we have to do at the moment. We are not perfect at it, we have to still learn and understand. There is a lot that we will never understand due to our privilege. The project thus changed our understanding of what it means to fight for inclusion. It is not enough to simply be a fan of the idea or the concept. It is more than the work we do at Impact Hub. If I am on public transport, the immediate question on my mind is: can everyone access this bus, tram or train? Can everyone enter the building I am in? Is the website I am using fully inclusive? Does my cinema offer audio description? If the answer is no, why not? What can I do for a more inclusive offline and online world?
Photos by Andi Weiland | Gesellschaftsbilder.de
At Impact Hub Berlin, we wanted to take a look at how our different members cross reference the Sustainable Development Goals and for goal number ten, "Reduced Inequalities" and we found that CHANCEN eG fitted that description perfectly. Florian and Olaf, founders of CHANCEN eG, started with the aim to break down the financial barriers to higher education so they created a fair financial model called "Income Share Agreements" to finance their tuition fees at University Witten/Herdecke. Over the last 3 years they have been offering this solidarity-based financing model to other schools and universities in Germany and now CHANCEN eG is a cooperative of over 280 members, mostly students, but also impact investors and private supporters, who are working towards instigating positive change in the educational sector.
Who are CHANCEN eG?
Olaf is our analytical mind and in charge of our financial forecasts, whereas Florian is constantly expanding our network by convincing more universities and impact investors of our model. Our project manager Ben is responsible for implementing our salesforce solution, and Nathalie, the latest addition to our team, is in charge of conducting selection interviews with students and organizing community events. South-African born, Batya is missing on the photo because she is currently in Rwanda to scale our financing model on her home continent. You will have a chance to meet her at the Hub in March.
What is your mission?
Our mission is to make education accessible to everyone, irrespective of their personal or financial background. We provide tuition fee financing to students studying at non-public universities in Germany, and we are launching a pilot project with 400 students at Akilah Institute for Women in Kigali, Rwanda. Students who are part of our community can study without having to worry about their tuition fees, and as soon as they start earning a salary, they make income-based repayments to the community. In that way, members who earn a high salary contribute more to the community than members who earn less. At the same time, repayments are paused as soon as a person earns less than a minimum income, giving our members the opportunity to pursue further studies, spend time abroad, take care of their family or do community based work without having to worry about debt repayments.
With SDG number 10 "Reduced Inequalities", how do you relate to it?
The German educational sector is still not equal. For students from working class families or with a migration background, the system does not offer equal opportunities and they are disadvantaged. Many lack parental support in terms of academic assistance and financial support. Even though the state universities offer some solutions it by no means caters for all professions or offers an environment where students from lower income households can thrive.
But we believe that the impact of our model can be even greater in countries where the state offers even less support to students. In Rwanda for the students that we'll support, the only options they have is to hope that they are one of the lucky 9000 who are selected for a government loan or hope that a bank will approve a very expensive loan. Inequality in education is rife, we are working towards changing this be ensuring that our students have equal opportunities in their academic life and that it will bring them further with their careers.
& what role does it play in your work?
By providing financial support to students irrespective of their background, we offer everybody the chance to study at private universities and thereby make the non-public educational sector less elitist. Our offer is especially valuable for students with modest socio-economic backgrounds who would otherwise not be able to afford the tuition fees of private universities. Actually, every third student we support has a migration background, and 60% of the parents have not studied.
Furthermore, by scaling our model to Rwanda, we contribute to increasing access to education in a country where education is even more dependent on a person's social status. We believe that the donors who support our Rwandan students make an important contribution towards reducing inequalities both within the Rwandan society and between the global North and South.
Why choose Impact Hub Berlin?
For us, the Impact Hub is an ideal workplace that allows us to connect with like-minded people who are working towards positive change. We love meeting new, inspiring people over community lunch or wine downs. Besides, the Hub provides us with the facilities we need to work together as a team and to conduct interviews with students who apply for funding. We especially appreciate the possibility to book phone cabins and conference rooms and to have amazing photos taken by Liz.
What are your plans for the future?
We are planning to extend our university-network in 2018 and to offer funding to 200 additional students. Our medium-term plans include not only the financing of tuition fees, but also the cost of living for students. Our international plans include bringing our model to the DACH area, Uganda and South Africa. We are excited to see our network grow in the future. And of course we welcome any input or feedback from the Impact Hub community.
Thank you CHANCEN eG! See you around the kiez 😊
Whether you think it doesn't concern you or you're already well informed on the new technology and possiblities that come with blockchain – the Blockchain Generation is here and it's going to change everything! So without further ado, meet our member Nathan, a Canadian entrepreneur, living in Berlin. He is the founder and CEO of Minespider, a blockchain startup for tracking conflict-free minerals in the supply chain who recently appeared on CNBC's Squawk Box and won the Talent Unleashed Awards global prize for Best Idea: One to Watch. Nathan also hosts the "Analysis in Chains" blockchain podcast and the "Blockchain Unpacked" meetup here at Impact Hub Berlin.
What is blockchain?
Blockchain is a way of arranging electronic data to make it very difficult to fake, duplicate, or change. This allows us to create digital items that can hold value because you know they are unique, and not copied hundreds of times. The most famous example of a unique digital item that uses blockchain is Bitcoin. Bitcoin allows electronic money to act similarly to cash – we no longer need to trust a bank to send money for us, instead we have these unique digital "coins" that we can trade with other people directly without trusting a third party, and we can send them anywhere in the world.
What is your mission?
My mission is to apply this blockchain technology to make a positive difference in the world. Blockchain will change the world as much as the Internet did, and we are just now starting to see how it can do this. I am working on a way of using blockchain to track responsibly sourced metals to make sure that the material going into our products doesn't fund human rights abuses, and I expect to encounter many more interesting projects in the near future. I started this meetup in order to talk with the people who are working on these projects, to get their input, and to help us all get a better understanding of this technology and how it can be applied for social good.
How does Impact Hub Berlin help you on your path?
Being at Impact Hub has helped a lot, honestly. In the early days of entrepreneurship getting a good network and good communications are some of the most critical factors for success. I found the network here to be very valuable full of like minded people, but also global people who were able to make some important introductions. In addition the team has been super supportive and I've found every success I've had has been a success shared and celebrated by the community.
What are your plans for the future?
Right now the plan is to raise the next funding round, grow the team, run a pilot project, and continue to grow the network of people interested in blockchain and its applications.
Join Nathan for his next "Blockchain Unpacked" meetup at Impact Hub Berlin on the 15th of February at 7pm – and join his meetup group!
Watch the video we made with Nathan where he tries to explain blockchain in 60 seconds….